We are a renowned trader and supplier of sturdy and durable bag materials, such as Narrow Woven Fabrics/Webbing Tape, Bags Cotton Piping Cord, Jute Yarn, Jute Tape, Zip Slider, etc.
About Us
Bags are used for a wide variety of purposes. Not only do they protect your important belongings from different weather conditions such as rain, extreme wind, sunlight, etc., but they also keep your materials safe inside. A bag has various parts such as handles, zippers, chains, etc. If all these parts are strong and durable, they add on to the overall durability of the bag. We understand this requirement and to offer our clients premium quality bag parts and accessories, we, M/S RISHI CORPORATION, have entered in the market. We are a proud supplier, trader and exporter of a wide variety of bags accessories such as, Cotton Tape, Cotton Rope, Hook And Loop Tape, Magnet, Eyelet, Bag Hooks, etc. We understand which material will go with which type of bag and this is one the reasons why we are considered experts in our work. We have a team which helps us in selecting the best vendors in the industry. Our vendors have good past track record and have manufactured and delivered premium quality materials over the ages.
Our Core Values
Core values are factors around which the employees of a company work. Having proper core values for your team is important as it helps them stay afloat even in tough times. We believe in our core values which includes working with honesty and sincerity towards work, adopting transparency in deals while dealing with customers, integrity, serving premium quality products to customers at affordable prices, and procuring goods without losing focus on quality. Our core values also includes procuring premium quality range from the vendors who have built a formidable name in the market. We take pride in the fact that we only deal with trusted vendors to procure goods and deliver them to our customers.
Why Us?
Being in the industry for more than 6 years, we have been able to keep a track of the market as well as know the requirements of our clients. We have been able to understand what the market requires in different areas. In some areas there is increase demand of one product, whereas in some other there is demand of some other product. We have been able to identify the different requirements of the clients in different sectors and this has helped us serve them better. Moreover, the way we have dealt with them via our customers friendly policies has really attracted them towards our products and policies. Some other reasons why we are worthy of doing business are:

Transparency in Deals
On Time Delivery of Cotton Tape, Magnet, Eyelet, Bag Hooks, etc.
Avoidance of Malpractices
Collection of Payments by all modes, such as offline and online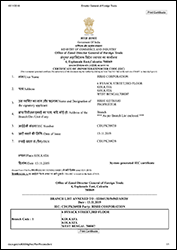 Get in touch with us